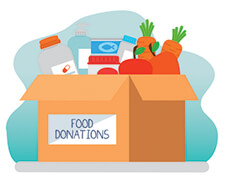 Harrison County Community Services, Inc. appreciates the time and dedication of all our volunteers.
There are many opportunities to lend a hand at HCCS, including but not limited to stocking shelves in the Food Pantry, making food boxes, sorting clothing, and other tasks.
We have volunteers that come regularly, and some that only stop in for a few days or for special events. Whether it is for a school project, needed service hours, or just a desire to give back to the community, we invite you to come spend some time with us.
If you would like to donate even an hour of your time to help support our cause, please contact our office at 812-738-8143, and ask for our Volunteer Coordinator, Linda Brown.